"Take up and read!"
Augustine heard these words, picked up his Bible and read, and so became Saint Augustine.

We know we should read the Bible more, and we want our kids to read the Bible. Yet we hesitate.

The Bible intimidates us. It's a large volume containing many books; and it has thin pages, small fonts, and lengthy footnotes. Our kids are even more intimidated.

The Sacred Art Series has created a Bible you'll want to read. It's also a Bible your kids can read. There are no more excuses. "Tolle lege! Take up and read!"

Features
Easy-to-read, story-by-story format of the complete text of the Gospels in large print.

Stories presented alongside 100 beautiful, full color images of sacred art from masters such as Fra Angelico, Michelangelo, and Titian.

​Gorgeously bound with a leatherette cover, gilt pages, durable sewn binding, and a ribbon.
Preview and Photos
Exquisite Gift. An exquisite gift for both children and adults. Perfect for First Communion or Confirmation.

Intended Audience. Ages 7 and up. Because of its accessible format, now your kids can easily develop a daily habit of reading the scriptures. Adults will also love the large print and beautiful images.

Translation. Based on the Challoner Revision of the Douay-Rheims--an excellent Catholic translation--with minor updates to ease readability, i.e., most thee's, thy's, thou's, and -eth endings have been replaced.

Free Shipping. Free 2-day shipping with Amazon Prime.

Money-back Guarantee. If you are unsatisfied for any reason, easily return through Amazon for a full refund. We are confident that you'll agree that the Sacred Art Series is now the most beautiful and easiest way to read the Gospels.

Regular Price - $39.95

Reviews
"I would highly recommend this. This would be a wonderful gift for anybody . . . to help them really dig into the Scriptures . . . and it's just really a well put together book." (The whole radio interview is here.)
- Matt Swaim, Host of the SonRise Morning Show

"We recently received this illustrated reading Bible version of the Gospels of St. Luke and St. John, and it really is perfect for the eight to twelve year olds in this house. . . . [The] Sacred Art Series is creating beautiful products that really fill a void in homes that are striving towards bringing a true and vibrant picture of our Catholic faith to our children. . . . [The Gospels of St. Luke and St. John] bridges the gap for older children, or adults, who don't want to be stuck with a story time children's Bible, but who struggle to read adult Bibles, cluttered as they are with verse numbers and footnotes."
- Kendra Tierney, Catholic All Year Blog

"The editor of the series makes the admittedly audacious claim that this is now the most beautiful and easiest way to read the Gospels. And I think he is right."
- Anselm, Unam Sanctam Catholicam Blog

"Maybe you are that Godparent/Parent/Sponsor who just can't think of what to give your little-saint-in-the-making as a gift on this important occasion. Well, let me suggest that you give the brilliant The Holy Gospels of St. Luke and St. John."
- Leila Lawler, Like Mother Like Daughter Blog

And see this interview at the Catholic Review.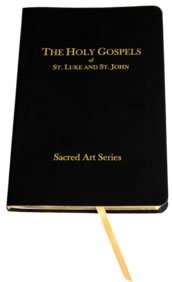 ​"Parents, teachers, catechists, pastors, lectio divina enthusiasts--whoever you may be: look into this Bible and see if it might not be the missing edition we have been waiting for."
- Dr. Peter Kwasniewski of Wyoming Catholic College.

Read the rest of his comprehensive review (with many pictures).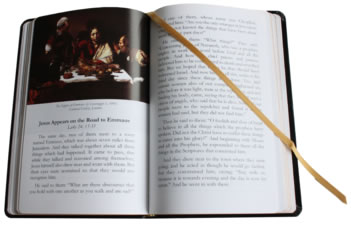 "If you are looking for a gift for your god-child, child, or really anyone, do not hesitate to purchase this high quality, impressive book. It's perfect for gift-giving and it's perfect for anyone."
- Leila Lawler, Like Mother Like Daughter Blog.
Also see this review from Leila Lawler.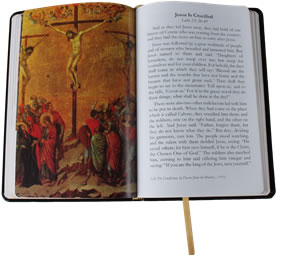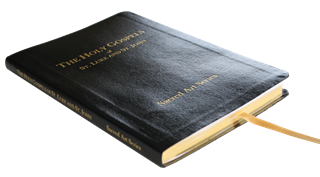 Hi-res photos of the book.
View the complete book interior for free!