"Pray the Rosary every day."
This was the Blessed Virgin Mary's message in Fatima in 1917. It has also been the message and example of many saints for centuries. Begin today with the Sacred Art Series Rosary Flip Book, the perfect aid for praying the Rosary.

Features
Built-in easel so that the books stand on their own.

Beautiful sacred art to avoid distraction and aid meditation.

Serves as a placeholder to remind you which mystery you are on. This is especially helpful if you only pray one or two decades each day.
Great for Families
The art especially helps children to participate in the family Rosary.

Children will also learn about the lives of Jesus and Mary by seeing the images daily in the home and hearing their parents' descriptions.

Displaying prominently on your mantle or home altar brings beauty to the home and encourages prayer throughout the day.
Additional Details
The art come from the 16th Century work of Goswijn van der Weyden, "The Fifteen Mysteries and the Virgin of the Rosary."

Each of the 15 interior pages displays a full color image of the Joyful, Sorrowful, and Glorious mysteries of the Rosary.

Preview the images with a free digital presentation.
Large and Small Sizes
The Large Rosary Flip Book is 7" x 9" and is recommended for families, as it can be seen from across the room.

The Small Rosary Flip Book is 4" x 5" and is recommended for individuals. It's also a fine addition to your office desktop.
Luminous Mysteries Rosary Flip Book. A separate 6" x 6" Rosary Flip Book is also available for those praying the five Luminous Mysteries instituted by St. John Paul II. The art for these mysteries comes from Fra Angelico and Giotto.

Free Shipping. Free 2-day shipping with Amazon Prime.

Money-back Guarantee. If you are unsatisfied for any reason, easily return through Amazon for a full refund. There's nothing else like the Sacred Art Series Rosary Flip Books. We are confident they will help your family pray the Rosary.
Reviews
"Praying the Rosary just got more beautiful with a resource that we've kind of been wishing for over the years!"
- Leila Lawler, Like Mother Like Daughter Blog.

"[The] Sacred Art Series is creating beautiful products that really fill a void in homes that are striving towards bringing a true and vibrant picture of our Catholic faith to our children."
- Kendra Tierney, Catholic All Year Blog

"Both unique books [the Gospels and the Rosary Flip Books] contain a treasure trove of beauty, laid out in an original format that is designed to aid in prayer. Families and individuals would benefit greatly from the exquisite Western art harmonized with scripture."
- Anamaria Scaperlanda Biddick, Sooner Catholic, January 25, 2015.
Free Rosary Presentation
Download a free digital presentation of the Rosary. This digital presentation uses the same images as the printed Rosary Flip Books, so this is a great way to preview the images. The file is saved as a PowerPoint show and can be projected onto a large screen or TV. There are two versions: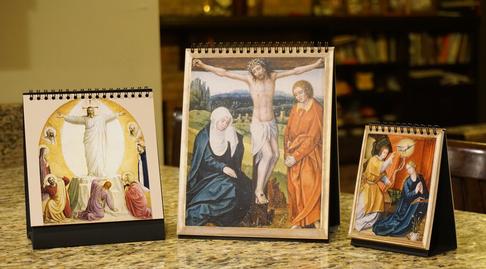 Left to right: Luminous Mysteries Rosary Flip Book, Large Rosary Flip Book, Small Rosary Flip Book.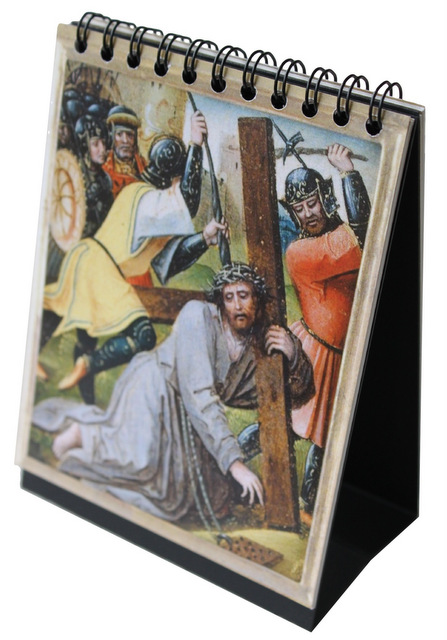 No longer in print.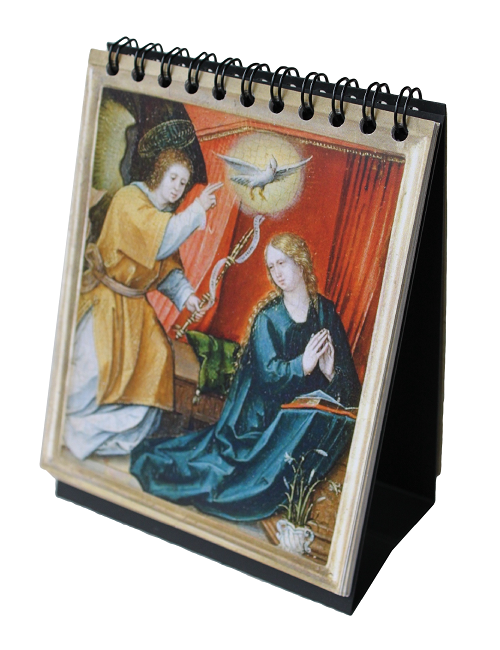 No longer in print.